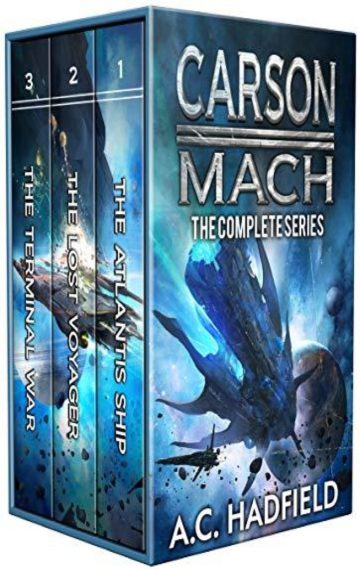 $4.99
Buy Now
Read A Sample
See The Reviews
Available in:

Kindle, Kindle Unlimited

Pages:

600

Published:

March 30, 2021
Get the Carson Mach Box Set, featuring all three books in the bestselling series. 1000+ pages of explosive, military space opera action, filled with characters that leap off the page.
Carson Mach, a former war hero turned freelancer, is seeking to revive his fortunes. Heeding a call from a friend in the Commonwealth government, he's tasked with a series of missions that few would ever agree to, much less with eagerness. But Carson Mach is a special kind of risk-taker and is known for cleaning up the quadrant's dregs in his unique, chaotic way.
With few resources and overwhelming odds, Mach must reunite some of his old buddies: tech specialists, military veterans, assassins, and puzzling AIs, and form them into an elite fighting force. If he fails, the threats to the Commonwealth may spell the end for millions of lives. This is his last chance. Should he fail, he'll either be dead or back in the gutter with no more favors to call in and few friends ready to lend a hand.
From hunting down mythical ships and recovering powerful artifacts to preventing the Commonwealth's center of power from falling to the enemy, Carson Mach and his ragtag crew of the starship Intrepid must do the extraordinary if they're to succeed. That's if they don't tear each other apart first.
Buy this special edition omnibus to experience this complete Military Space Opera series from Amazon Bestseller A.C. Hadfield. It's perfect for fans of Jamie McFarlane, JN Chaney and Jay Allan.
This boxset contains three full-length novels:
Book 1: The Atlantis Ship
Book 2: The Lost Voyager
Book 3: The Terminal War