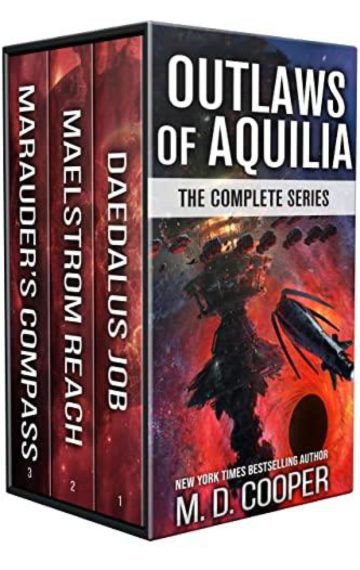 $0.99
Buy Now
See The Full Series
Available in:

Kindle, Kindle Unlimited

Pages:

954

Published:

March 8, 2022
Get the Outlaws of Aquilia Boxed Set, featuring all three books in a Space Opera thrill ride from NYT Bestselling Author M.D. Cooper. It's perfect for fans of Elizabeth Moon, Ken Lozito, and Craig Alanson.
Within the L, a tri-star system located inside the Aquilian Nebula, Jax makes a living trading and smuggling whatever goods pay the best. So far, he's avoided being caught with anything too damning in his ship's holds, but when he takes a job for Korinth, an infamous arms dealer, all that changes.
The haul is worth ten times his ship, and when the contents gets him embroiled in a tug of war between the major political factions of the L, Jax has to keep the criminals he works for from discovering that he's playing both sides. Hell, he just might have to play all the sides to navigate the tangled web he's in.
Every move he makes to get free of the quagmire draws him in deeper until Jax finds himself on the hook to run the hardest job he's ever undertaken: rob the Daedalus, a military cruiser escorting a convoy through the Maelstrom.
Sure. Cakewalk, right?
Buy this special edition omnibus to experience this complete Space Opera series today!
This boxset contains three full-length novels:
Book 1: The Daedalus Job
Book 2: Maelstrom Reach
Book 3: Marauder's Compass
---
The Complete Series
---
---
Other Books You Might Like
---
---