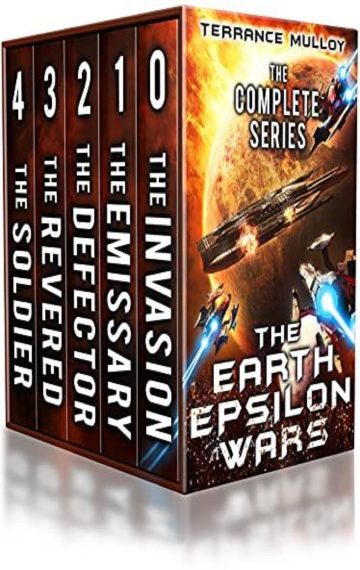 $0.99
Buy Now
Read A Sample
See The Reviews
Available in:

Kindle, Kindle Unlimited

Pages:

1103

Published:

November 2, 2021
Get the Earth Epsilon Wars Box Set, featuring all four books in the series plus a bonus novella. 1000+ pages of gritty military sci-fi, alien invasions, and time travel action.
The Only Way Home is War!
In the darkest and grimiest corners of our galaxy, Earth's United Space Command is entrenched in a bloody and merciless war with an alien species known as the Wraith. With neither side relenting, the conflict on Epsilon 382-IV has been a costly and devastating blow to mankind's resources, with billions dying every year.
Arriving home after a harrowing tour of duty, USC Sergeant Matt Reeves has just learned the enemy may be preparing to attack Earth again. A widower with a nine-year-old daughter, Matt doesn't need any reminding of what's at stake. With much of Earth still in ruins, and its military forces off-world and stretched beyond capacity, there is no way mankind could survive another invasion. Teetering on the brink of defeat, the United Space Command is desperate to find some form of leverage.
Enter The Emissary Program.
Matt learns the USC have been secretly experimenting with time travel to alter the outcome of the war – and they want him to be their next guinea pig – sending him back to Washington DC, forty-eight years before the invasion. His mission: help a small team of scientists locate a brilliant virologist, whose work may hold the key to eradicating the Wraith from existence.
Can Matt and his team successfully change the future and save mankind? Or will they learn the Wraith have already altered the past and won the war?
Buy this special edition omnibus to experience this complete Military Sci-Fi series from Amazon Bestseller Terrance Mulloy. Set aside some time to dive into this epic page-turner. You'll need it.

Books included in the Set:
Book 0: The Invasion (prequel novella)
Book 1: The Emissary
Book 2: The Defector
Book 3: The Revered
Book 4: The Soldier