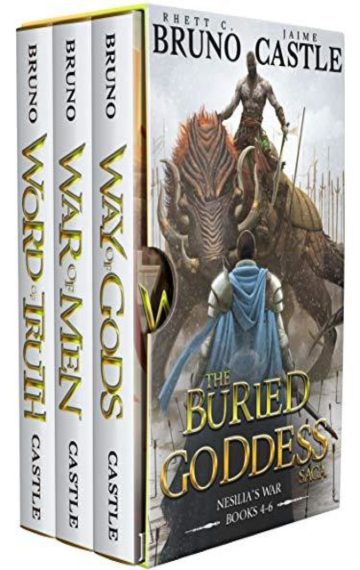 $6.99
Buy Now
Read A Sample
See The Reviews
See The Full Series
Available in:

Kindle, Kindle Unlimited

Pages:

1927

Published:

June 9, 2020
They thought they'd won, but the war has only just begun…
Experience nearly 2000 pages of sweeping fantasy in this box set follow-up to the Redstar Rising trilogy, as the Buried Goddess Saga comes to it's epic conclusion.
Redstar is defeated. The Buried Goddess plans to return have been thwarted, but not for long. Nesilia has a new target. A woman whose power will allow her to breach the physical realm—the mystic, Sora.
While Sora struggles to resist, Whitney sets out on a quest across Pantego to find and bring her back. There's no gold in it, no grand treasure. Only saving the woman he loves, and oh… saving the world while he's at it.
Everything in Yarrington has changed since the Drav Cra were driven out. But while the rest of the court moves on, Torsten Unger resists the dark forces gathering. He knows Nesilia isn't finished and neither is the war in the Black Sands.
There, a new Shesaitju warrior rises up to fight in the name of her father, Muskigo Ayerabi. It will take everything she has to prove that the time of the Black Sands has come.
War plagues every corner of the Glass Kingdom. Heroes and villains abound. But as Nesilia gathers her final army for conquest, our heroes must all stand together, or die alone.
Buy this Special Edition Box Set to experience the second half of the Buried Goddess Saga, filled with deep characters, twists, and a conclusion that will take your breath away.
Included in the Redstar Rising Trilogy:
Book 4: Way of Gods
Book 5: War of Men
Book 6: Word of Truth
---
The Complete Series
---
---
Other Books You Might Like
---
---