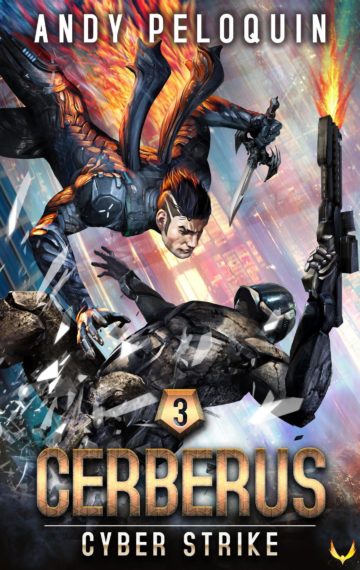 $2.99
Available in:

Kindle, Kindle Unlimited, Audiobook, Print

Pages:

272

Published:

June 16, 2020
Nolan Garrett is at war…with his own ordnance!
His cutting-edge combat suit: hacked.
His high-tech weaponry: dismantled.
His AI: inoperative.
All he has left are his wits and the help of the drugged-out Silverguard he rescued from her addiction.
His enemy is one he can't see, can't stab, can't shoot. Hidden behind the technology that made Nolan the Nyzarian Empire's deadliest assassin, the mysterious hacker known only as Ex-Umbra is a threat his elite soldier training could never prepare him for.
Unless Nolan can put him down in time, Ex-Umbra is out to reveal the truth about his existence to the entire galaxy…
Cerberus: Cyber Strike is the third book in the action-packed, futuristic space opera Cerberus series. If you like cloak-and-dagger thrillers, aerial gunfights, and edge-of-your-seat action, you'll love Andy Peloquin's kickass sci-fi saga.
Buy Cerberus: Cyber Strike now and dive into this high-octane series!