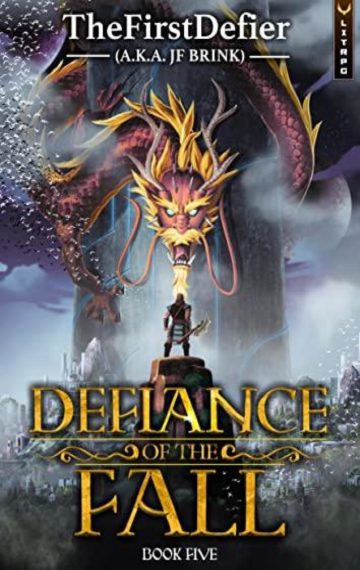 $6.99
Buy Now
See The Full Series
Buy The Audiobook
Narrator:

Pavi Proczko

Available in:

Kindle, Kindle Unlimited, Audiobook

Duration:

24 hours and 11 minutes

Published:

May 20, 2022
The Tower of Eternity holds unimaginable treasures… for those strong enough to claim them.

The clock is ticking, and Earth is on the verge of being swallowed by the Undead Empire. Zac has one final chance to gain the power needed to deal with the threat; the upper levels of the Tower.

But even if he survives the challenges of the 81 levels, another trial await him outside. A bounty has been placed on his head by the System itself, and the young elites of the whole sector are sharpening their knives.

Meanwhile, something is brewing in the Mystic Realm. An event that could change the fate of Earth.

Book 5 of the hit Defiance of the Fall LitRPG series is here. Grab your copy today!

About the Series: Jump into a story that merges Apocalyptic LitRPG elements with eastern cultivation. Class systems, skill systems, endless choices for progression, it has everything fans of the genre love. Explore a vast universe full of mystery, adventure, danger and even aliens; where even a random passer-by might hold the power of a god. Follow Zac as he struggles to stake out a unique path to power as a mortal in a world full of cultivators.