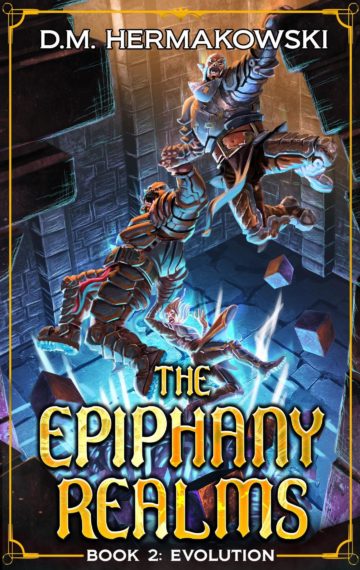 $4.99
Buy Now
Available in:

Kindle, Kindle Unlimited

Published:

December 21, 2021
The landscape is changing. The monsters are deadlier. The Realms' evolution is just getting started.
Betrayed by the company that sent them into a disintegrating VRMMORPG, Damon and the veterans are saddled with a bunch of head-strong, level-one rookies. Finding a dead man's DNA is their only hope… if there's any hope left at all.
As deadly glitches threaten their very existence, the new teammates must fight even greater abominations. Goblins are one thing, but what the hell is a Bunyip?
Meanwhile, lurking in the woods and empowered by the mysterious Wendigo, a madman with new abilities is bent on revenge against his former team.
The clock is still ticking.
Days away from his own mutation, will Damon unite the disparate newcomers and find a way out before the world around them collapses?
Evolution is the second book in The Epiphany Realms series of LitRPG / GameLit novels. It features a full immersion universe, race and class designations, unique creatures, dungeon crawling, and level progression. Explore this breathtaking portal fantasy loaded with action, horror, humor, and Easter eggs that reference video games and pop culture. Perfect for fans of Dave Willmarth, Michael Chatfield, and Matt Dinniman.