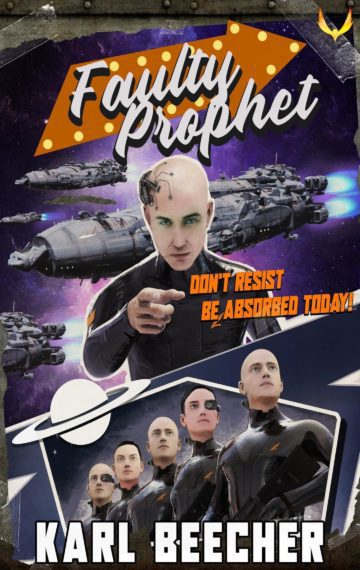 $4.99
Buy Now
Read A Sample
See The Reviews
See The Full Series
Narrator:

Steve West

Available in:

Kindle, Kindle Unlimited, Audiobook, Print

Pages:

400

Duration:

11 hours and 45 minutes

Published:

December 10, 2019
Colin's supposed to deliver a prophecy. Problem is, he forgot what to say…
Evangelist Brock T. Hanson believes Colin Douglass to be the prophet he's been waiting for his whole life, the man who will lead the faithful back to Earth and trigger the most momentous event since Creation itself. But there's a problem.
Actually, there are several.
First, Colin Douglass himself doesn't believe a word of it and is the kind of chap who'd rather stay at home with a nice cup of tea than cross the galaxy on some foolish, idealistic crusade. Second, Earth lies within the territory of the Transhackers, a race of cold-blooded, trigger-happy cyborgs who don't easily forgive those who trespass against them. And third, Colin Douglass might not even survive a trip to Earth because he is succumbing to a life-threatening illness.
When Hanson kidnaps Colin and takes him to Earth anyway, Tyresa Jak sets off in hot pursuit to rescue Colin before either the Transhackers or his disease can destroy him.
The rollicking space adventure continues in this hilarious sequel to Interstellar Caveman. The only way you'll stop reading, is when you fall off the chair from laughter.