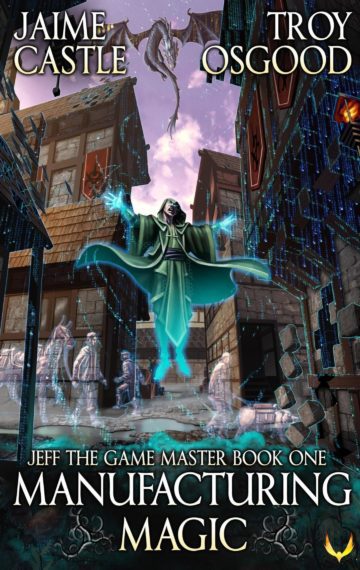 $2.99
Buy Now
Read a Sample
See the Reviews
See the Full Series
Narrator:

Nick Podehl

Available in:

Kindle, Kindle Unlimited, Audiobook, Print

Pages:

476

Duration:

11 hours and 59 minutes

Published:

May 4, 2021
Infinite Worlds is the most popular VRMMORPG on the market. Its maps are so vast, developer Hard Rock Data utilizes a network of highly advanced Artificial Intelligences to control it. But it's not without problems.
That's why Game Masters like Jeff Driscoll have jobs. The downside? He's not allowed to play the game. Something about conflicts of interest and favoritism.
His very boring and tedious job is to help players deal with the occasional bug that slips through the cracks and ensure they enjoy their time playing enough to give a 5-star rating. It's a gig. It pays the bills.
However, when the A.I.s unexpectedly issue a Rogue Patch, the game becomes a buggy mess and Jeff's role radically changes. He finds himself as the only Game Master around, dealing with more problems than he can handle.
It's up to Jeff to return Infinite Worlds to normalcy using his ability to manipulate the game's code into what appears like magic… But will the A.I.s let him?
Manufacturing Magic is a unique spin on the LitRPG genre, not just providing the perspective of the players, but also of one of those mystical, magical, all-powerful GMs we all dream of being.
About the series: As a GM, Jeff utilizes a unique progression system of magic built around the manipulation of video game code. Weaving his hot-fixes with the already established Infinite Worlds' code, Jeff rescues players, corrects glitches and more. Additionally, experience Infinite Worlds through the eyes of the players through Dak, Rikardi, Aesir and Jeweliette. Enjoy the mundane-to-vital character growth with a main character who is Hard Rock Data's only hope with plenty of quests, loot, adventurers, dragons, and magic. Rich characters and world-building offer humor alongside lots of monster fighting and adventure.