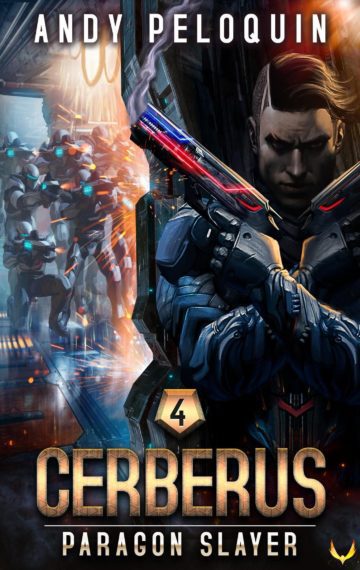 $2.99
Available in:

Kindle, Kindle Unlimited, Audiobook, Print

Pages:

321

Published:

July 14, 2020
One man, one AI, and three guns versus a spaceship full of armed enemies–what could possibly go wrong?
Nolan Garrett has a new target: Captain Drexel of the SSE Armada, smuggler, enemy combatant, and suspected terrorist.
All it takes is a bit of clever bluffing and some fast cyber-work by Taia, the AI in his brain, to get him close enough to pull the trigger.
Nothing can ever be that easy…
The "cakewalk" mission goes quickly off the rails with the arrival of a friend that should have been dead, a series of brutal assaults and murders, mysterious armored foes with tech capable of vanishing into thin air, and a cargo so valuable, rivers of blood will be spilled to safeguard it.
Alone and surrounded by hostiles, Nolan has only his skill-at-arms, his armor, and his AI to keep him alive in this deadly game of cat-and-mouse.
Cerberus: Paragon Slayer is the fourth book in the high-octane space opera Cerberus series. If you like non-stop action, blindsiding plot twists, and epic stakes, you'll love Andy Peloquin's kickass sci-fi saga.
Buy Cerberus: Paragon Slayer now to experience this thrill ride!