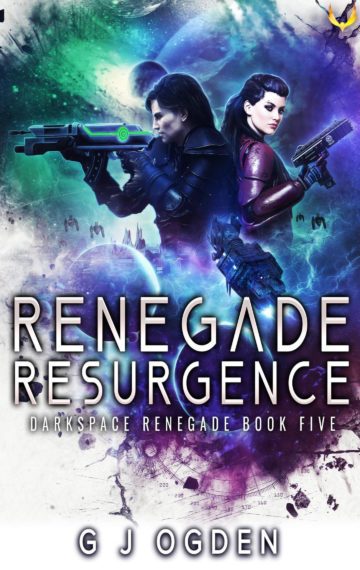 $4.99
Buy Now
Read A Sample
See The Reviews
See The Full Series
Available in:

Kindle, Kindle Unlimited, Print

Pages:

227

Published:

February 9, 2021
The Darkspace Renegades are running out of time to destroy the Centrum and save humanity. But a new threat is closing in, forcing old enemies into an uneasy alliance.
Alone and stranded on an outer bridge world, Hallam Knight, Dakota Wulfrun and Dr. Rand are running out of time. Hunted by the Consortium Security Force at every turn, they must find a new ship and somehow continue their mission to destroy the Centrum.
But for once, Cad Rikkard and Alexis Black are not on their tails.
On the run from the renewed might of the Consortium, under its new leader, Dexter Stone, the Blackfire Squadron are driven into hiding. Forced to relinquish his fortune and his most treasured possessions, Cad Rikkard turns to the influential and mysterious "Banker" in order to stay one step ahead of the Consortium.
Unfortunately for the Blackfire Squadron, events do not go as planned.
Meanwhile, the Darkspace Renegades discover new and unexpected allies lurking in the darkest corner of the galaxy. And with this discovery comes a new chance to strike at the Centrum and complete their mission.
But first, Hallam and Dakota must team up with the most unlikely of partners to conduct a daring raid into the very heart of Consortium territory. Failure will mean the end of their mission, the collapse of the interstellar bridges, and the end of the human race.
Renegade Resurgence is book five in the action-packed military sci-fi thrill-ride – the Darkspace Renegade series. If you like your action fueled by power armor, big guns and the occasional sword, you'll love this fast-moving adventure. Perfect for fans of Jay Allen, JN Chaney and Firefly.