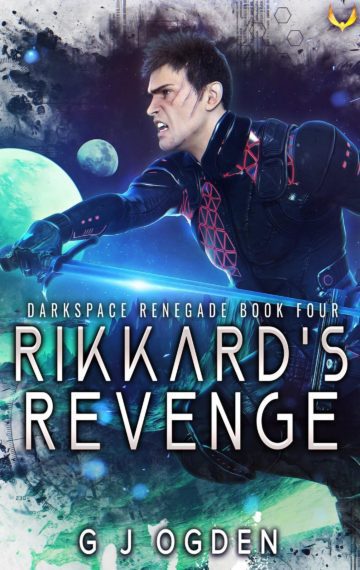 $4.99
Buy Now
Read A Sample
See The Reviews
See The Full Series
Available in:

Kindle, Kindle Unlimited, Print

Pages:

237

Published:

January 5, 2021
The Darkspace Renegades embark on a perilous quest to the fabled 13th Bridge World. But Cad Rikkard strikes back with a vengeful fury that has far-reaching consequences.
Unable to secure the technology they need from the Rogue World, Hallam Knight, Dakota Wulfrun and Dr. Rand must risk everything to travel to the alien 13th bridge world. Crippled by gravitational anomalies and littered with hidden dangers, they have a window of only a few hours to find what they need and escape to safety.
But in the shadows, Cad Rikkard is plotting his revenge.
Enraged by the death of his Blackfire Squadron friend and ally, Cad Rikkard unleashes an apocalyptic fury on the Darkspace Renegade outposts and hideouts, spread throughout the galaxy.
Refusing to be bound by the shackles of his contract with multi-trillionaire business tycoon, Damien Doyle, the Blackfire Squadron strikes at the very heart of the Consortium. As the interstellar bridges continue to collapse, laying waste to entire star systems, the galaxy is thrown into turmoil.
As a new enemy rises from the ashes, only Hallam, Dakota and Dr. Rand can reverse the damage, before all of humanity falls into the abyss.
But first the Darkspace Renegades must get past the Blackfire Squadron. Unfortunately for them, Cad Rikkard is prepared to let the worlds burn, so long as he gets his revenge.
Rikkard's Revenge is book four in the action-packed military sci-fi thrill-ride – the Darkspace Renegade series. If you like your action fueled by power armor, big guns and the occasional sword, you'll love this fast-moving adventure. Perfect for fans of Jay Allen, JN Chaney and Firefly.