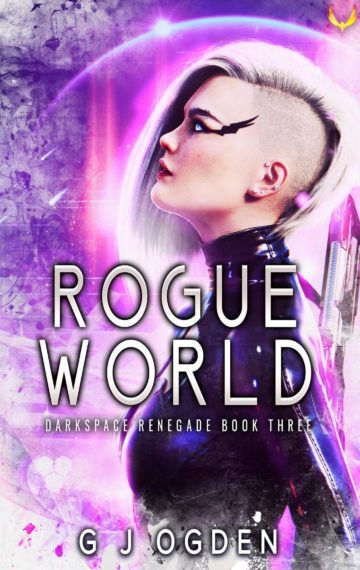 $3.99
Buy Now
Read A Sample
See The Reviews
See The Full Series
Available in:

Kindle, Kindle Unlimited, Print

Pages:

213

Published:

December 8, 2020
A hidden planet holds the key to saving humanity, setting the stage for another ferocious encounter between the Darkspace Renegades and Blackfire Squadron.
Discovering the existence of a secret Consortium planet, Darkspace Renegades, Hallam Knight and Dakota Wulfrun plan a daring raid to the mysterious and dangerous rogue world. The prize is the technology they need to break through the Centrum's defenses and put an end to bridge travel, before it's too late.
But the mission goes desperately wrong.
Offering to mend the fractured alliance between the Blackfire Squadron and the Consortium, multi-trillionaire tycoon Damien Doyle offers up Dakota Wulfrun as bait. Blinded by hatred, Cad Rikkard will stop at nothing to get his revenge on Hallam, Dakota and the Darkspace Renegades. But his quest for vengeance comes at a terrible price.
Once again outgunned and on the run, Hallam, Dakota and the Wolf Squadron are lured into a trap and must use every last ounce of their skill and guile to survive.
The interstellar bridges are collapsing, entire planets begin to crumble and the Consortium's secret is blown wide open. Only Cad Rikkard's thirst for revenge can stop the Darkspace Renegades now, and he's out for blood.
Rogue World is book three in the action-packed military sci-fi thrill-ride, the Darkspace Renegade series. If you like your action fueled by power armor, big guns and the occasional sword, you'll love this fast-moving adventure.