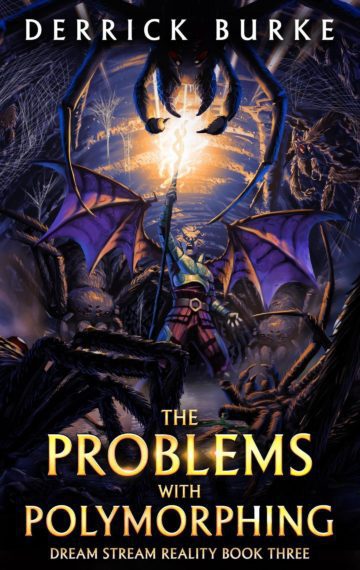 $4.99
Buy Now
Read A Sample
See The Reviews
See The Full Series
Available in:

Kindle, Kindle Unlimited, Print

Pages:

348

Published:

February 2, 2021
What's the worst glitch a Beta tester can stumble into in a VR game? Getting stuck inside, obviously. What's the use of having a large company stipend when you literally can't touch a cent of it?
After a very painful merging with Belvar, Donald is plagued with the old man's disjointed memories and a unique medallion with peculiar properties. He experiences one of those properties sooner than expected and finds that Grace, his dragon familiar, has transformed into a Dragonkin lady.
As if that wasn't weird enough, the surprises keep coming when in an effort to brighten his day, Donald decides to test out his new Quarterstaff of Unpredictability. He quickly realizes that he should err on the side of caution when using it, but the effects certainly make for an entertaining story to laugh at!
Donald now has a Guild to level, a Glade to protect, and a seemingly impossible quest to bring one of his newfound friends back to life. All of his quests are pointing to Solime, a city several days to the north as somewhere Donald and his friends might find some answers. He just has to get there.
It's too bad there are quite a few people who want to help him keep revisiting the resurrection alter.
Grab Book 3 in this funny and exciting new LitRPG series. It's perfect for fans of Ryan Rimmel, Dakota Krout, and Vasily Mahanenko.