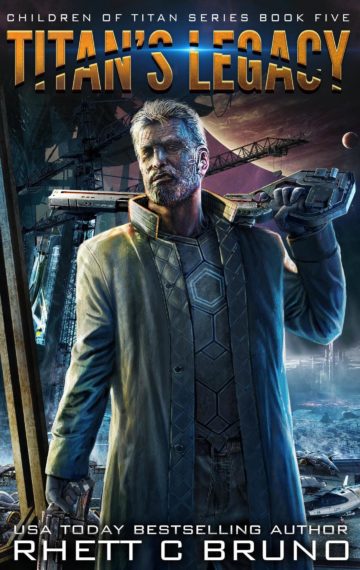 $2.99
Buy Now
Read A Sample
See The Reviews
See The Full Series
Narrator:

R.C. Bray

Available in:

Kindle, Kindle Unlimited, Audiobook, Print

Pages:

295

Duration:

8 hours and 46 minutes

Published:

March 31, 2020
It's time for one last mission…
Ten years have passed since the end of the Titan Conflict. Now, the Titanborn stand on their own. And even though the war might be over, tensions between them and Earth have never been higher.
Malcolm Graves has spent the last decade living on Titan, the last place he'd ever expected to retire. But he'd made a vow to his daughter: protect her son Alann until his dying breath.
But when an old rival on Earth makes a threat against Alann's claim as heir to the throne of Titan, it's time to dust off the old pulse pistol and silence him. One problem. After he sets off to return to Earth for one last time, he awakens from cryo to find a stowaway. Desperate to see the worlds beyond Titan after spending his young, privileged life sequestered there, Alann had snuck aboard.
Together, they'll have to survive the perils of Earth as enemies old and new gun for the future King of Titan. One wrong move, and it'll be war again. A war that, this time, humanity may not survive.
Join ex-collector Malcolm Graves on one last mission in the fifth and final installment of the Children of Titan Series. To protect his grandson, there is nothing he won't do.