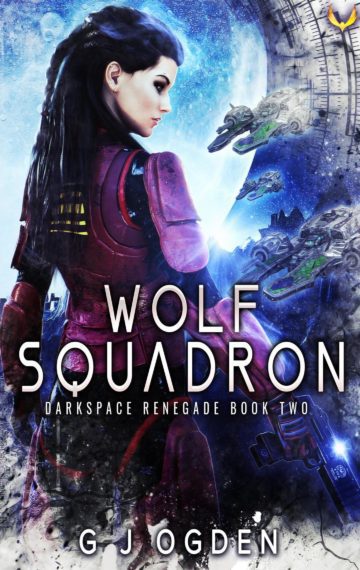 $2.99
Buy Now
Read A Sample
See The Reviews
See The Full Series
Available in:

Kindle, Kindle Unlimited, Print

Pages:

236

Published:

November 10, 2020
The Darkspace Renegades are hunting for alien tech that can save the galaxy. The Blackfire Squadron will stop at nothing to destroy them and keep the Consortium's secret.
With the interstellar bridges showing signs of collapse, the Darkspace Renegades must step up their plans to destroy the Centrum and end bridge travel for good. But first they need to locate a vital piece of alien tech, the whereabouts of which is stored in a top-secret data bunker.
Unfortunately, the Blackfire Squadron, led by Cad Rikkard, is also stepping up its hunt for the renegades, especially the Wolf Squadron, Hallam Knight and Dakota Wulfrun. Funded and equipped by multi-trillionaire industrialist, Damien Doyle, Cad has the best ships, the biggest weapons and the advantage of alien-derived power armor. The Blackfire Squadron are hell-bent on destroying the Darkspace Renegades' hideouts and flushing out Dr. Shelby Rand – even if it means using nukes.
A dangerous game of cat-and-mouse played out across the galaxy leads to a violent confrontation between Hallam, Dakota and the Blackfire Squadron, and a desperate fight for survival has tragic consequences.
To begin with the Blackfire Squadron's mercenary contract was just business – now it's personal.
Wolf Squadron continues the action-packed military sci-fi thrill-ride – the Darkspace Renegade series. If you like your action fueled by power armor, big guns and the occasional sword, you'll love this fast-moving adventure. Perfect for fans of Jay Allen, JN Chaney and Firefly.