Two of our very own, Hollywood actor and dynamite sci-fi author Lou Diamond Phillips' The Tinderbox: Soldier of Indira and Aethon Books co-owner Rhett C. Bruno's The Roach have been nominated for IAAs this year!
Both books are narrated by the man, the myth, and the legend himself, R.C. Bray (being accompanied by Julia Whelan for The Tinderbox).
The Tinderbox was edited by Rhett C. Bruno, artwork by Yvonne Phillips, Lou's immensely talented wife, and produced by Podium Audio.
The Roach was edited by Steve Beaulieu, artwork by Luciano Fleitas, and produced by Podium Audio.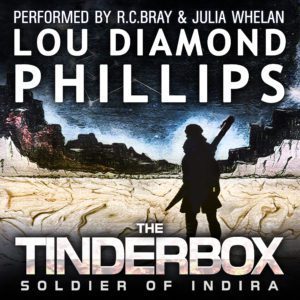 From the imagination of actor Lou Diamond Phillips (La Bamba, Stargate Universe, Prodigal Son) comes an epic and unforgettable Science Fantasy tale.
Two worlds at war will bring them together… or tear them apart…
Everson didn't want to be a soldier. His parents forced him to serve, as all good Indiran men should. The only problem? His first battle against their mortal enemies goes horribly wrong and he winds up stranded on the enemy planet.
Now, Everson has to survive in this strange new land where everyone is out to get him. Not to mention, the planet Mano is covered in unforgiving desert. And he's the target of traitors who want to use him in a dastardly plot to overthrow their mad king, Xander the Firm, by having him retrieve a piece of mysterious and powerful ancient technology known as the Tinderbox.
But everything changes during a chance encounter with the king's daughter, Allegra. Despite her station, she's in as grave of danger from her own people as Everson is. And though their peoples have been at odds for centuries, an unlikely spark forms between them.
As their worlds come crashing down around them, their forbidden love might be the only chance to end this war forever. Or, it might just be the doom of everyone…
Imagine the intrigue of Game of Thrones mixed with the star-crossed romance of Romeo and Juliet… but in space! Inspired by Hans Christian Andersen's famous fairy tale of the same name, Soldier of Indira is perfect for fans of Outlander, Dune, Aurora Rising, and Stardust.
---
---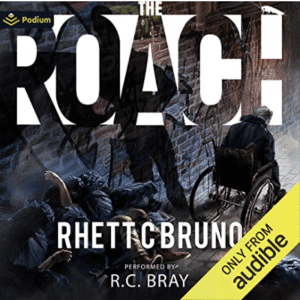 A string of killings. An identity stolen. Only he can find the truth.
Reese Roberts was the guardian of Iron City. Its fearless protector. The only one willing to do whatever it takes…until he was shot on the streets and left paralyzed from the waist down. Now, the vigilante known as the Roach has disappeared. Faded into legend.
It's been years since Reese could take on crime and clean up the streets. He's a shriveled old drunk, living like a hermit and waiting for his life to end. All that's left to do is wallow in the mistakes that led him here. To wonder if he went too far.
But when a copycat steals his suit and takes justice into his own hands, a new killer emerges, leaving brutal messages behind. He wants to eliminate the Roach for good this time.
It's time for Reese to re-emerge from his shell and fight back. Who else can stop the flurry of killings? Definitely not the corrupt police department. Iron City needs the Roach again. Only, this time, he'll need to save it without his legs.
---
---