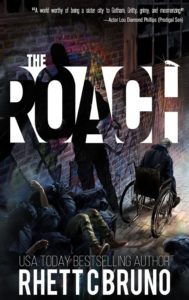 Producing vet Gilbert Adler ("Valkyrie," "Superman Returns," "Constantine") and writer-producer Joel Eisenberg ("The Chronicles of Ara," "Then Again") have inked a first-look deal for the available Aethon Books library, a digitally focused publisher that specializes in the science fiction and fantasy genres, and also maintains a print distribution deal with Heavy Metal magazine.
First to be developed is "The Roach," from Nebula Award Nominated author Rhett C. Bruno. "The Roach," a mix of character-driven thriller and gritty superhero fare, follows Reese Roberts, who was once the guardian of Iron City until he was shot on the streets and left paralyzed from the waist down. When a copycat steals his identity and takes justice into his own hands, a new killer emerges, forcing the retired, disabled vigilante to stop the string of new killings and secure his legacy. Actor Lou Diamond Phillips called the book, "Gritty, grimy, and mesmerizing."
"The Roach" is being prepped as a multi-season episodic.
Aethon Books have made available the majority of their library to the producing team for film and television rights. They're best known for publishing books by bestsellers such as Joshua Gayou, Paul Antony Jones, and Yudhanjaya Wijeratne. Their most recent big signings are a Sci-Fi Series by New York Times Bestseller Jonathan Maberry (writing with Weston Ochse), and a fantasy trilogy by Kevin J. Anderson.
"The Roach" is available in most online retailers, and also as an audiobook on Audible.com produced by Podium Audio. An extended paperback print-run in a partnership with Blackstone Publishing is due out later this year.