2021 was an exciting year, full of amazing releases, bestsellers, awards, and more. With 2022 now in swing, we wanted to announce a few signings that we can't wait to bring you!
Scott Sigler, #1 New York Times best-selling author of Earthcore, has signed with us to publish his CRYPT SERIES. Horror meets Military Science Fiction in a warship that can slip into chaotic dimensions, travel undetected to pop out behind enemy lines, making it a "submarine in space." With an 80% mortality rate, only the worst of the worst are assigned to the P.U.V. James Keeling, also known as… "the Crypt."
Book 1 is expected to release in Fall 2022.
Ryan Rimmel has signed with us to publish two Fantasy LitRPG series' that will continue his amazing knack for getting laughs as he's done in his bestselling Mayor of Noobtown Series. When he is not writing, Ryan is playing Dungeons and Dragons, upgrading his computer, or, doing other dorky tasks. During the day, he can be found maintaining the fleet of medical robots he is responsible for.
One series is tentatively titled the Chronicles of the Unfortunate Five Series and the other is The Amazing Sword of Justice, and Yorick Series. These books are expected to start releasing in late 2022.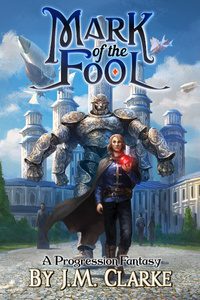 J.M. Clarke has signed with us to publish his Mark of the Fool Progression Fantasy series. In this series, a young baker's assistant is marked as the worst of his kingdom's heroes—destined to fight an ancient enemy—and flees the realm with his loved ones to the greatest university of wizardry in the world
A hit web serial with millions of views, this is coming for the first time to Kindle, Print, and Audible, to be narrated by Travis Baldree. Completely revised and re-edited, Book 1 is expected to hit the shelves in Fall 2022.