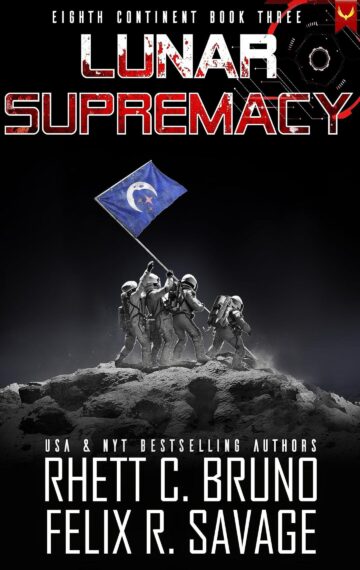 $4.99
Buy Now
See The Reviews
See The Full Series
Available in:

Kindle, Kindle Unlimited

Pages:

466

Available:

November 28, 2023
In the electrifying conclusion to the unputdownable trilogy of science-based thrillers by Felix R. Savage and Rhett C. Bruno, bitter enemies clash in an epic battle for lunar dominance that will leave you breathless.
Stranded on the unforgiving lunar surface after a global economic catastrophe, Nick Morrison and his steadfast comrades are faced with a dire ultimatum: secure their dwindling supply chain or face a slow, harrowing demise. Their salvation lies in the daring capture of a pivotal space station, granting them a fleeting respite from the clutches of Earth's relentless powers.
But the rulers of Earth refuse to tolerate an independent lunar colony, setting the stage for a high-stakes arms race that spans the cosmos. Nick, his friends, and the lunar base itself become the frontline in a battle of epic proportions. As the stakes reach a fever pitch, Nick must confront not only the might of Earth but also his long-standing adversary, Joe Massad, in a deadly duel for lunar supremacy.
Destinies collide amidst the desolation of space, and the lunar dust bears witness to ghastly sacrifices in the pursuit of the ultimate prize. Prepare for an unforgettable odyssey where the fate of the moon hangs in the balance, and heroes and villains alike must pay the ultimate price for their lunar dreams.
---
The Complete Series
---
---
Other Books You Might Like
---
---