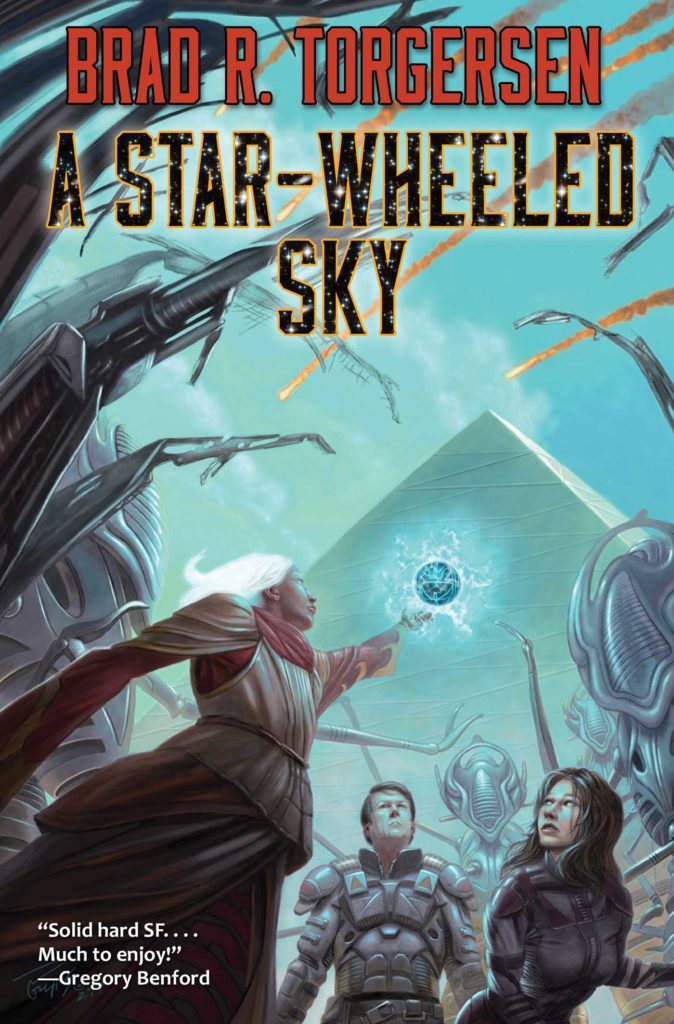 By: Brad R. Torgersen
Narrated by: Natasha Soudek
Length: 12 hrs and 5 minsAudiobook
4.5 out of 5 stars4.5 (58 ratings)
2019 Dragon Award Winner for Best Sci-fi Novel!

SYNOPSIS:
THE WAYPOINT TO ULTIMATE POWER!
Over a millennium in the past, humans fleeing Earth in slower-than-light vessels discovered the Waywork, an abandoned alien superhighway system that allows instantaneous travel from star to star. The problem: there are a finite number of Waypoint nodes—and the burgeoning population of humans is hemmed in as a result. Furthermore, humanity is divided into contending Starstates. One of the strongest is based on an oligarchy ruling families, but still mostly democratic. The other is a totalitarian nightmare. War seems inevitable.
Now a new Waypoint appears. Might it lead to the long-lost creators of the Waywork? If so, there may be knowledge and technology that will tip the balance in the coming war.
Three people race to make it to the new Waypoint—and beyond. These include Wyodreth Antagean, the reluctant son of an interstellar shipping magnate, Lady Garsina Oswight, the daring daughter of a royal family, and Zuri Mikton, a disgraced flag officer seeking redemption. They are facing an implacable foe in Golsubril Vex, a merciless, but highly effective, autocrat from the Waywork's most brutal regime. Vex is determined to control the new Waypoint and whatever revelation or power lies on the other side.
Now humanity's fate—to live in freedom or endless dictatorship—depends on just what that revelation might be.  And who gets there first.

REVIEW by Brian Mansur:
Across four decades of enjoying science fiction, I've seldom encountered works that capture the flavor and majesty of great classics from previous generations. A Star-Wheeled Sky is one of those rare novels to achieve this enviable distinction.
Like Brad, I've read inspiring tales such as The Mote in God's Eye, Ringworld, Gateway and On Basilisk Station. Thus, I can say without reservation that this novel is a "must-have" treat for fans of sci-fi grandmasters like Larry Niven, Jerry Pournelle, and David Weber.
From chapter one, Brad draws upon his real-life military experience to summon a broad cast of sympathetic heroes to face a desperate adventure. The freedom of humanity rests in unlikely hands: a washed-up admiral who has obsessively rewritten her resignation letter for the last month; a reservist who's resentful for being snatched away from supporting his dying father's company; a royal family's daughter who yearns to do more for her people than running balls and charity events; and the young lady's aging guardian who battles prejudice, politics and an implacable enemy to protect his headstrong mistress. Together, they race against the clock for a prize sought by a chilling sociopathic leader from an oppressive empire reminiscent of the Soviet Union or Red China.
Brad puts equal care toward crafting the novel's rich background and plot. His brand of faster-than-light travel offers a new twist to an old trope: pilots must risk madness by using alien-built keys to travel the stars. His space combat scenes strive to respect physics and scale—a rare find in science fiction—while keeping the perilous thrill of combat. At every step, be it the political, military or casual social setting, the story earns high marks for believability. All in all, the story offers a wealth of mystery, humanity, grandness and intrigue. 
I'm very glad I read it and look forward to more from Brad.
---
You Might Also Like
---