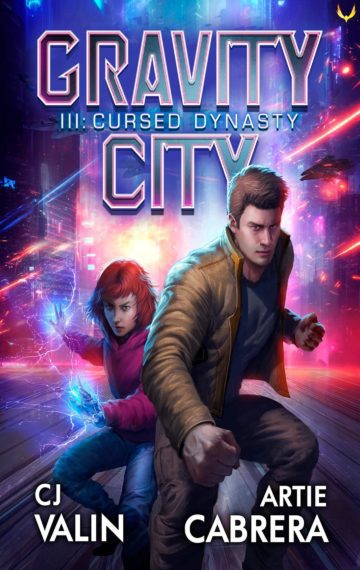 $4.99
Buy Now
Read A Sample
See The Reviews
See The Full Series
Buy The Audiobook
Narrator:

Pete Bradbury

Available in:

Kindle, Kindle Unlimited, Audiobook

Pages:

482

Duration:

13 hrs and 15 mins

Published:

December 20, 2022
Shrouded forces are pulling Gravity City and reality to the brink of extinction.
In the wake of the deadly Seagazer attack, Countess Maia Reed is out to even the score and reclaim her city from Dickey Jets with the help of hired guns, while her son, Victor, looms in the shadows and seeks to carve out his prominence in the criminal underworld and beyond.
Charlie Bravo and Boltz-RG, now doing odd jobs for Commucorp, have been ambushed by their employer in the desert on their way back from a shipment run. They must now seek help from an old ally, who may not be too happy to see them after a long and tumultuous hiatus. However, Koya, now a hardened leader of a rag-tag clan of mercenaries in the dunes, still has unfinished business from her past to settle and rekindles her mission to bring CommuCorp and the remnants of Khovalt to justice. She joins Charlie and Boltz on their journey back home, where a myriad of capable enemies and monsters await in the tempestuous desert. The question is, can the crew make it back in one piece before their secrets destroy their kinship and alliance for good?
Meanwhile, in hiding after his squad mates' plot to kidnap to Rocket backfires, Rangers must come to terms with his future in the GCPD and raising a cybernetic child who has exceptional gifts and is wanted by the most powerful organizations in the city alone. How can the city's toughest cop keep her and his family safe when he doesn't know who he can trust, and how can our heroes protect Gravity City when robots rise in mutiny and reality is in peril in the finale of this galactic saga?
Book 3 of the Gravity City series by CJ Valin and Artie Cabrera. Space will never be the same after this rip-roaring adventure across the stars!
---
The Complete Series
---
---
Other Books You Might Like
---
---