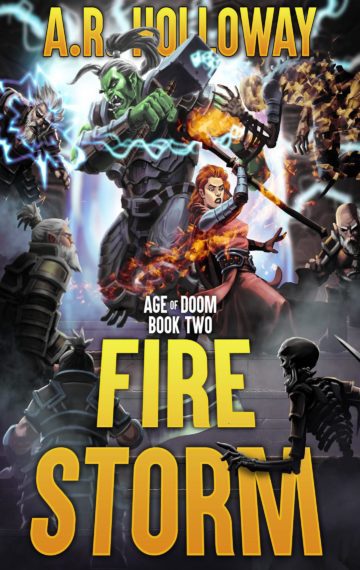 $4.99
Buy Now
See The Reviews
See The Full Series
Available in:

Kindle, Kindle Unlimited, Print

Pages:

579

Published:

November 8, 2022
The Emperor is dead. Arch Mage Rodgerson is severely wounded. Evil has awoken, and the continent of Scell is on the verge of falling to darkness.
Lana Rodgerson, daughter of the great Arch Mage, has spent the better part of the last year leading the former slaves freed by Thun and his people. She's managed to turn long-empty estates into profit and has learned her father's lessons of leadership. Watching her friend flee East with his people, she is left to wonder when the doom he escaped would arrive for her.
Now the Empire's capital city stands as a last bastion against an infected continent. The Chosen have arrived, and no force can stand against them. Only her father's desperate plan to scavenge prototype magical devices and use them to evacuate their people can possibly save them.
Lana leads an expedition following in her childhood friend's footsteps—her peoples' last, desperate hope.
Thun Stormrage, Gul of Guls, now leads his budding civilization, and must decide to embrace the past and tradition or forge an entirely new path. Through fire and blood and the visions of his mother's gift, he works to see darkly what the future of each path might hold.
For whichever he chooses, will determine the fate of the world.
Book 2 in the Age of Doom LitRPG Series. Orcs, Tiger Mounts, War… it's got everything fans of the genre will love!
---
The Complete Series
---
---
Other Books You Might Like
---
---