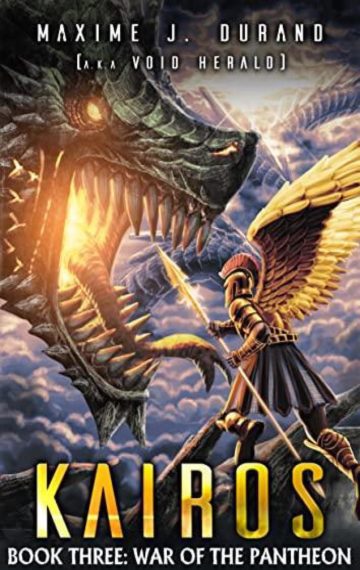 $4.99
Buy Now
See The Reviews
See The Full Series
Narrator:

Eric Michael Summerer

Available in:

Kindle, Kindle Unlimited, Audiobook

Duration:

13 hours and 48 minutes

Published:

August 16, 2022
When demigods fight, the world holds its breath.
War has come to Kairos' doorstep right as his dynasty seems secure. The Poison Emperor Mithridates has launched his conquest of the Sunsea, sowing death and destruction in his path. The vile Romulus feeds on the chaos in the hope of freeing his dreadful master, the wolf-god Lycaon.
As his final battle approaches, Kairos gathers his many allies to face his foes once and for all. Two would-be pantheons will now clash to determine which of them will inherit the Olympians' throne.
At the apex of the world, there is only enough space for one.
Book 3 in the epic Kairos LitRPG Series, loaded with Greek mythology and pirate-themed adventure, by the bestselling author behind Vainqueur the Dragon and The Perfect Run.

About the Series:Witness an epic blend of Greek Mythology and LitRPG where Heracles was a [Fighter] and Circe a [Spellcaster]. In a universe where the old Gods have fallen, mortals can rise to become Gods through Legends, Levels, and building up Mythical Skills. Dungeons full of minotaurs and undead, insidious assassination plots, and epic wars between demigods… this series has it all.
---
The Complete Series
---
---
Other Books You Might Like
---
---