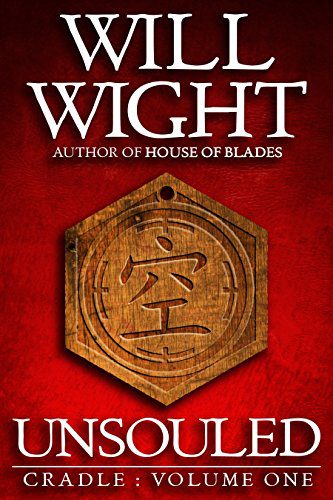 By: Will Wight
Reviewed by: Andy Peloquin
Let's be honest: everyone knows about Cradle. It's one of the best-known fantasy series today, with the latest book actually cracking #1 on Amazon's charts for a few days because so many people devoured it on Day One.
I wasn't one of them…
I've heard amazing things about Cradle, but I'd never gotten around to reading it until recently. I needed some good indie fantasy, something a bit lighter after a David Gemmell (Druss/Waylander) binge.
I'm going to start off by telling you what I didn't like about it:
– Not a damn thing. Honestly, that was the easiest 8 hours of listening I've experienced since Red Rising. Solid intro, great character from the beginning, intriguing magic system, and great pacing.
Let me tell what you I liked/loved about it:
– Lindon. Very possibly the most relatable, easiest-to-like YA character I've read since Aram in ML Spencer's Dragon Mage. He's an "everyman" character that pretty much anyone can root for. After all, who doesn't love the underpowered underdog story?
– Lindon's progression. I believe this book is one of the early exemplars of the now-well-established "progression fantasy". It's got a pretty clear hierarchy of powers (foundation, copper, iron, jade, etc.), a well-defined scope of powers, and boundaries that make it a "hard" magic system that is very easy to follow. Or, in Lindon's case, NOT follow because he can't scale up as an Unsouled.
– Cunning and trickery. There were times when I felt a little guilty for enjoying how Lindon tricked his way through things, but by the 50% mark, I was all there for it. It's incredibly well done on the author's part to throw Lindon up against escalating challenges that are both impossible and yet somehow attainable thanks to some tiny detail he scattered into an earlier part of the book—some trivial thing that, to anyone else, would have meant nothing, but which Lindon's mind uses to do amazing things.
– The world. The farther into the book I got, the more "real" the world became. Despite all the strange flora and fauna, the background details were fleshed out so well (never info-dumpy, though) that it became easy to imagine it. There were parts where I wasn't really grounded in the setting, but that was okay because the focus is always on Lindon and what he's going to do. The bits and pieces of the world that I did get were enough to paint a clear picture of the world.
– The narrator. Travis Baldree is awesome! This is my first time listening to anything of his, and from what I hear, his narration just gets better with each book. His voice talents bring this book to life spectacularly—it's why I love audiobooks almost more than reading.
– The unique characters. Because of the setting (wuxia-esque world), there's plenty of room to create all kinds of quirky, unique, interesting characters that might not belong in a more "real-to-life" fantasy world. Elder Whitehall is a particular favorite of mine, and I'm excited to see what other interesting characters get introduced later on.
– The scope. I won't spoil the overall story arc introduced in this book, but suffice it to say, it gave me a glimpse of a much, much bigger picture to come than just the immediate settings. There's kind of an "inevitability" to the way the story is laid out—present details and hints of the future—that promise grand adventures ahead.
I'm not a Cradle/Will Wight die-hard fanatic…yet. I've already started Soulsmith (Book #2) right after finishing Unsouled because the storyline hooked me by the end of Book 1 and I want to go the distance to see where it takes me.
But I can say without a shadow of a doubt: Cradle is one hell of a series, and I'm glad I started listening to it when I did!
This review is the opinion of the author and does not represent the views of Aethon Books or its employees.
---
You Might Also Like
---