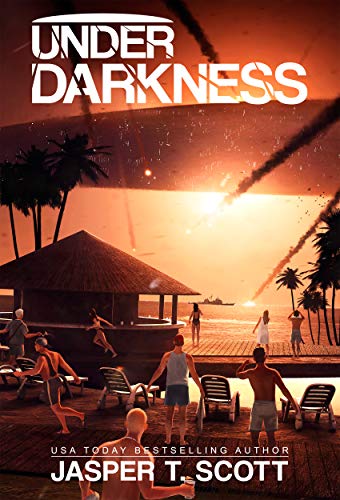 By: Jasper T. Scott
Narrated by: Ben Jaeger-Thomas
Reviewed by: Brian Mansur
Heart-thumping thriller!
This is my first time reading/listening to Jasper T. Scott's work and I am seriously glad I took the recommendation. Under Darkness is a trippy mix of Independence Day vibes (of the good kind) with all the visceral fun of a Scream movie…but with aliens.
What surprised me most was how fleshed out the characters were (pun intended): something not seen often enough in the sci-fi/horror genre. To begin with, there is divorcee, Bill Steele, who is struggling to run a five-star hotel while raising his wild-child daughter. Then there are the newlyweds on their possibly last day honeymooning <B.E.G.>. And there is the unfaithful businessman trying to reconnect with his wife and spoiled family. All while running away from terrors brought to them from another world. If you're looking for an enjoyable thrill, Under Darkness delivers. 
This review is the opinion of the author and does not represent the views of Aethon Books or its employees.
---
You Might Also Like
---