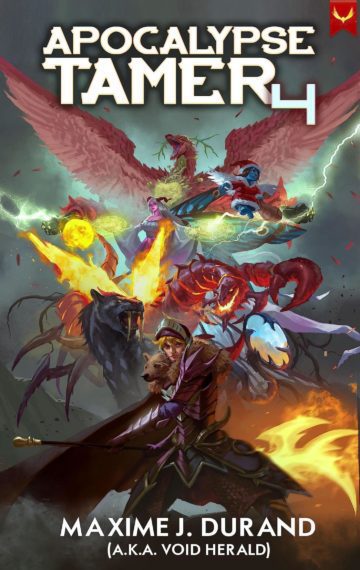 $5.99
Buy Now
See The Reviews
See The Full Series
Available in:

Kindle, Kindle Unlimited, Print

Pages:

452

Published:

July 26, 2023
Earth's days are numbered.
The final Incursion, which will leave the planet without any protection from the multiverse's horrors, is only days away. The Horsemen of the Apocalypse are here. The Maleking is coming, and the Unity is making its final play.
The great competition for the throne of Overgod is about to reach its end. For whoever reaches level 100 first will gain ultimate power. Basil and his team are determined to win this battle royale at all costs.
But it is one thing to conquer the world and another to save it.
The 4th and final installment of the Apocalypse Tamer Series from Maxime J. Durand, bestselling author of Vainqueur the Dragon and The Perfect Run. Full of equal parts action and laughs, this story is a satirical take on the typical LitRPG Apocalypse stories blended with elements of Pokémon and Monster Rancher.
About the Series: Join Basil as he progresses from Level 1 to 100 all while refusing to play by the rules of the System. Able to recruit monsters to join him with his [Tamer] class, Basil grows a party of unique creatures to keep him company in the end of the world. They'll experience dungeon diving, battles, and building a little slice of forest into a defensible base.
---
The Complete Series
---
---
Other Books You Might Like
---
---