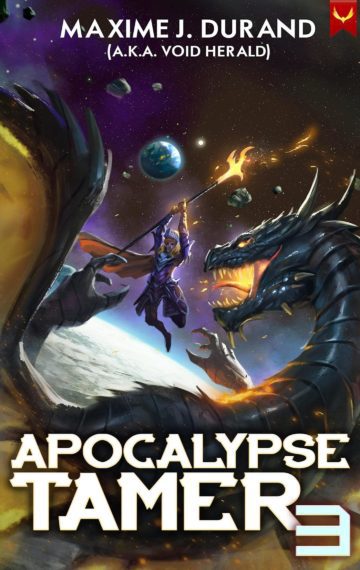 $5.99
Buy Now
See The Reviews
See The Full Series
Available in:

Kindle, Kindle Unlimited

Published:

May 23, 2023
One Horseman of the Apocalypse down, three more to go.
Basil and his team leave France as acclaimed heroes, but a new threat arise in the East: his homeland of Bulgaria is besieged by the mechanical armies of the Unity and their ruthless dragon general, the cruel Blackcinders! With the help of his new ally, the mysterious Kalki, Basil must journey across Europe and show the invaders mankind won't kneel before them.
However, challenges are many: Basil's mother Aleksandra is alive somewhere in Bulgaria; the Maleking, now short of a Horseman of the Apocalypse, schemes to enter Earth in person; and Blackcinders might prove to be the team's deadliest foe yet…
But no one said being the Apocalypse Tamer would be easy.
Book 3 of a new System LitRPG series from Maxime J. Durand, bestselling author of Vainqueur the Dragon and The Perfect Run. Full of equal parts action and laughs, this story is a satirical take on the typical LitRPG Apocalypse stories blended with elements of Pokémon and Monster Rancher.
About the Series: Join Basil as he progresses from Level 1 to 100 all while refusing to play by the rules of the System. Able to recruit monsters to join him with his [Tamer] class, Basil grows a party of unique creatures to keep him company in the end of the world. They'll experience dungeon diving, battles, and building a little slice of forest into a defensible base.
---
The Complete Series
---
---
Other Books You Might Like
---
---