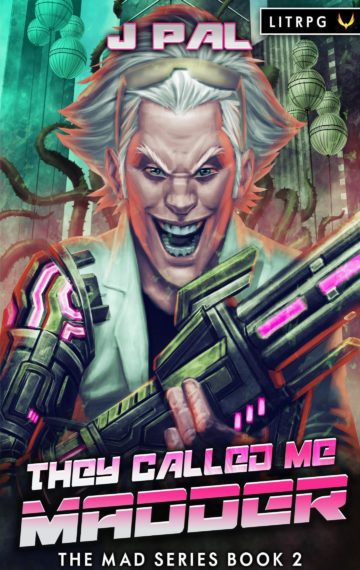 $4.99
Buy Now
Read A Sample
See The Reviews
See The Full Series
Available in:

Kindle, Kindle Unlimited

Pages:

424

Published:

July 20, 2021
Apocalypses come with wins and losses. We suffered more of the latter than the former.
The first week of Survival Planet claimed two of my dearest friends, but we managed to come away with friend in high places. Our enemies pursued us into a sector with a higher threat level than the last. Biometal behemoths hunt us, and leathery, shock-proof dinosaurs haunt the sky. The future looks bleak but giving up isn't an option.
I refuse to let innocents and the people I care about die.
I refuse to let the space elves get away with their crimes.
I refuse to bow to this new world.
The new sector will be tamed. A safe haven, free of mind control will be built. Our oppressors shall fall. They might call me MAD for standing up against a superior alien threat. But by the immortal Doc Brown, humanity will survive!
Equipping everyone with wacky inventions wasn't enough to save MAD's friends or keep them together. Perhaps an undying fortress is the answer to his problems.
About the MAD world: Not all game-mechanic systems hand out levels, stats, and skills. Sometimes it offers super powers and leaves the progression up to the user. What is LitRPG without the fan-favorite blue boxes, though? Instead of STR, DEX, AGI, expect them to house crafting-based notifications.