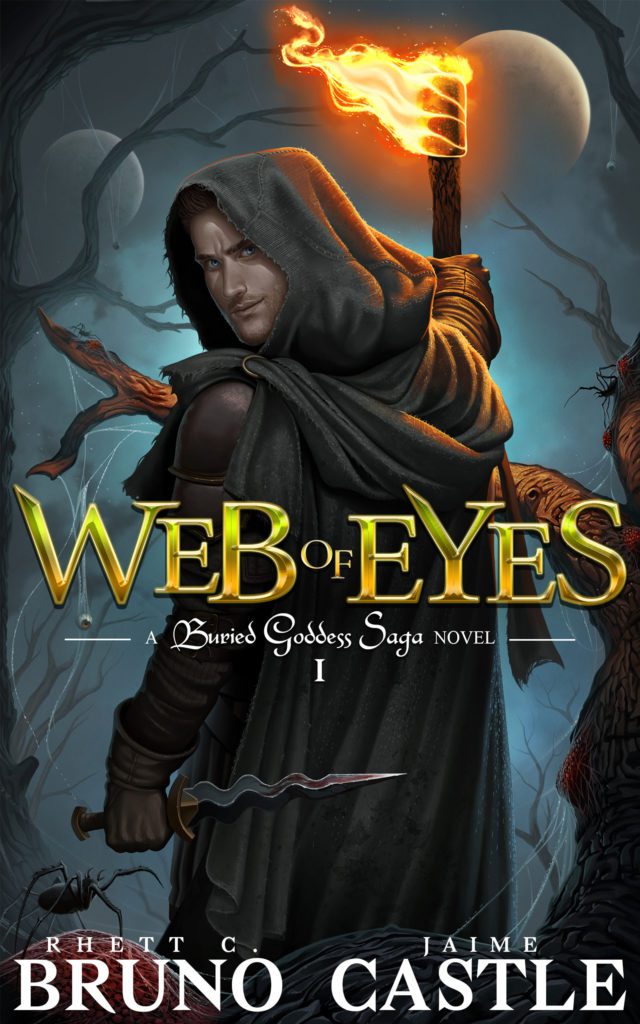 By: Jaime Castle & Rhett C. Bruno
Narrator: Luke Daniels
Reviewed by: Andy Peloquin
4.5 out of 5 stars
Not the book I was expecting, but ended up enjoying it a lot! Classic Paladin vs. Rogue vibe that makes for a lot of fun reading.
From the title and original cover (see below), I was expecting sort of the classic D&D-style dungeon crawl adventure. You know the type: lots of creepy monsters, dark underground caverns, endless encounters, lots of loot and XP, and ultimately, Boss Fight with head monstress drider/Llolth-style goddess called Queen Bliss.
What I got was vastly different…and, ultimately, a lot more enjoyable than what I was expecting.
It's the classic D&D pairing: the stuffy, uptight Paladin (Torsten Unger) and the half-mad, brash rogue/thief (Whitney Fierstown) team up to go on a kingdom-saving quest for some magical MacGuffin (in this case, a little doll belonging to the Prince, which I thought was far more creative than (insert fancy named gemstone/magic sword/crown/amulet).
But instead of being a classic dungeon crawl style adventure, it's much more along the nature of a well-crafted journey through an intriguing, fleshed-out fantasy world. Though it starts off in the classic places (a tavern, because of course, and in the highest levels of the Palace), Web of Eyes takes us through the world of Pantego in snippets and snatches, building the world patiently but steadily until it feels like a truly lived-in place with a variety of cultures and peoples–you know, like the REAL world.
They do violate the most important law of dungeoneering (Don't Split the Party), but that leads to some interesting developments for the world at large and future books to come. There is one "side quest" that feels a bit like it's going nowhere, but immediately upon opening the second book, I found it's tied to the greater story arc beyond just a nutball thief getting into ridiculous hijinks.
I could easily relate to the rule-following, over-zealous Torsten, and I laughed at the sort of nonsense the utterly chaotic Whitney got up to. But the addition of other primary characters (such as Sora and Queen Oleander) and secondary characters (who shall not be named for SPOILERY reasons) gave them excellent three-dimensional development that ultimately hooked me enough to keep me moving into Book 2 without hesitation.
Literally my ONLY quibble with the series (and, judging by other reviewers, it's a common one) is that the usually-excellent Luke Daniels makes some truly awful choices with the character voices. Whitney sounds exactly like the Lucky Charms leprechaun's less intelligible cousin, and there were quite a few voices that I couldn't understand.
He NAILS Torsten and the majority of the characters, but there are a few voice choices that nearly made me give up listening.
But I'm glad I powered through, because it would have been a shame to miss out on what has been a great book–and, with luck, a great 6-book series to keep me entertained for a few more weeks.
This review is the opinion of the author and does not represent the views of Aethon Books or its employees.
---
You Might Also Like
---