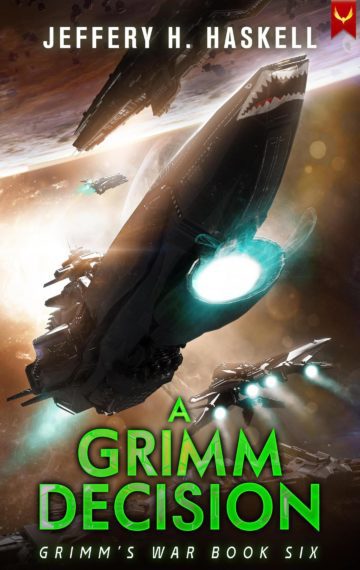 $5.99
Buy Now
See The Reviews
See The Full Series
Available in:

Kindle, Kindle Unlimited

Published:

September 12, 2023
It's not the war he wanted.
Commander Jacob T. Grimm is eager to get back in the war, but when an ambassador to a nothing planet called Cordoba pulls strings, Interceptor is the convenient puppet.
Assigned to escort the ambassador, a company of Marines, and take part in war games with Cordoba, Jacob fears the only action will be against boredom.
He couldn't be more wrong.
A coup is brewing on Cordoba and Interceptor and the Marines of Bravo Two-Five are caught right in the middle.
Betrayed on every side, Jacob has to come up with his most daring plan yet, if he's going to save his ship and crew.
What Jacob doesn't know, though, is an old enemy is in league with the coup. An enemy that wants Commander Jacob T. Grimm's head.
Trapped between a rebellion and invaders, Jacob can't see a way out. There may be no victory he can achieve. Attack or defend someone will die—and only Jacob can decide who.
Grab your MP-17, strap into the Corsair, and prepare for A Grimm Decision. Buy it now and start reading it immediately upon release!
From USA Today bestselling author and Dragon Award Finalist Jeffery H. Haskell comes book six in the military science fiction epic in the tradition of Honor Harrington and Star Trek.
---
The Complete Series
---
---
Other Books You Might Like
---
---