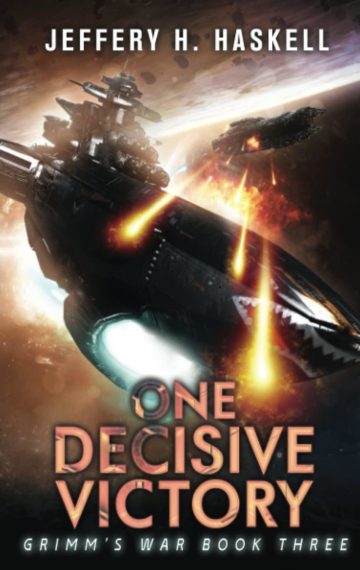 $4.99
Buy Now
See The Reviews
See The Full Series
Available in:

Kindle, Kindle Unlimited, Print

Pages:

370

Published:

June 21, 2022
The Alliance needs to strike back, but the politicians are cowards. Admiral Wit DeBeck has a simple three step plan to punch the Caliphate right in the nose and send a clear message.

Step 1: Kick Lieutenant Jacob T. Grimm out of the navy and have him steal his own ship.

Step 2: Infiltrate Caliphate space and mount a rescue mission on their slave distribution hub.

Step 3: Get out alive.

The only ship that can do it, has the only captain with nothing to lose. The Caliphate struck first, but Jacob is going to strike hardest.

Between stealing his own ship, Zuckabar separatists, and rogue pirates, the Interceptor has a gravcoil full of trouble before they even enter hostile space.

However, there's a problem in orbit that Jacob doesn't know about. Even if they can rescue the slaves, they may never leave the system.

If Jacob can't find a way to succeed, then the Alliance is headed for a war they can't win, and all of humanity will pay the price.

From USA Today bestselling author Jeffery H. Haskell comes book three in the military science fiction epic in the tradition of Honor Harrington and Star Trek. If you love heroes and ships you will want to suit up and help the Alliance achieve One Decisive Victory. You're in the Navy now!
---
The Complete Series
---
---
Other Books You Might Like
---
---