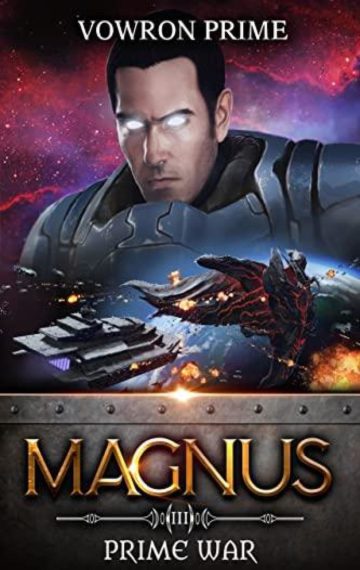 $4.99
Buy Now
Read A Sample
See The Full Series
Available in:

Kindle, Kindle Unlimited, Print

Pages:

543

Published:

January 4, 2022
A cornered man is a dangerous man. Doubly so for Magnus Cromwell.
The Resistance has won, but it was Pyrrhic victory. With Sanctuary in flames and Nova missing, it's up to Magnus to turn the tides of war against the Legatus.
But will it be enough?
Amidst this turmoil, Ubiquity Prime's subjugation fleet steadily approaches Kelruhn, promising total annihilation.
Up against the greatest foes of his life, Magnus must lead his meager forces in a war where failure is not an option, and the fate of two worlds hinges on the actions of one man.
Book 3 in the kickass GameLit/LitRPG Saga from debut author Vowron Prime is here. Grab your copy today!
About the series: Embark on a jam-packed action adventure with an overpowered protagonist that seamlessly merges epic battles with mystery, survival, and elements of Lovecraftian horror. Dragons, magic, and medieval fantasy meet cyberpunk technology in this rollercoaster of a ride that starts fast and never lets up. Experience a unique take on a light LitRPG system whose true, gory nature is uncovered bit by bit as Magnus progresses through his epic journey in a land of horrors. And with four detailed art scenes of fantastical locations inspired by an author who has journeyed from Antarctica to Kilimanjaro, you won't want to put the book down!
---
The Complete Series
---
---
Other Books You Might Like
---
---