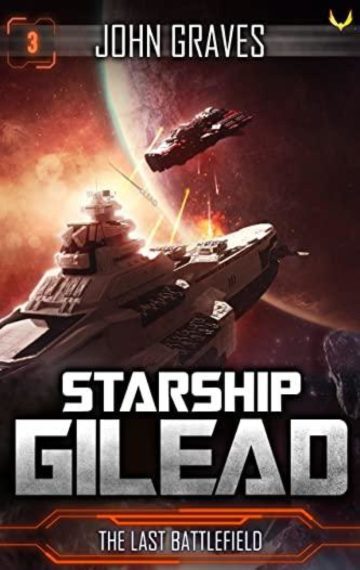 $4.99
Buy Now
See The Reviews
See The Full Series
Available in:

Kindle, Kindle Unlimited, Print

Pages:

307

Published:

May 3, 2022
War has crossed the galaxy and Earth is the last battlefield.

Adrienne Manthus has lost everything: her father, her ship, and her love. Trapped behind enemy lines, she and a small contingent of space marines must explore a desolate world in search of an ancient artifact that will give them a fighting chance against Kokabiel, the God-emperor who has conquered the galaxy. But without the Starship Gilead, how can Adrienne hope to make a stand against her tyrannical enemy?

Across the stars, Jeremy Manthus has stolen his father's starship. He has spilled innocent blood and rules Gilead with an iron fist. But rebellion is fomenting among his crew, and Jeremy has lost sight of Gilead's mission. How long will he be able to hold the captain's throne when his sister returns to claim her birthright?

Millions of lives have been lost and the galaxy is in flames as the Starship Babylon finally arrives at Earth. There's only one starship capable of defeating her, but will Gilead arrive in time? And who will be in command?

Don't miss the epic conclusion to this series. Starship Gilead is a space opera that's perfect for fans ofStar Trek,Battlestar Galactica,andWarhammer 40,000.
---
The Complete Series
---
---
Other Books You Might Like
---
---